News
Azerbaijani Army's retaliation against Armenians will be even more serious, decisive and ruthless – Defense Ministry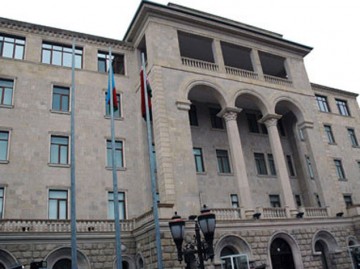 The Defense Ministry has issued a statement about the Armenian armed forces firing on Alibeyli village of Tovuz district.
The Defense Ministry said that starting from the evening on February 5, Armenians intensively fired on Alibeyli village of Tovuz district from various weapons.
"The enemy also targeted civilians, their houses and other buildings, along the positions of our Armed Forces. One of the houses burned after being hit with incendiary bullet, the citizen's personal property was damaged. One of the villagers was injured.
Armenian armed units, in contravention of the norms and principles of international law, fire on the facilities having no military significance, civilians and their personal properties to provoke Azerbaijan into taking adequate steps," says the statement.
The Defense Ministry said that Azerbaijani armed forces had never targeted civilians and non-military facilities. Armenia should bear responsibility for the actions committed against the civilians. Azerbaijani armed forces will take more serious, decisive and ruthless measures against enemy to destroy the Armenian military targets.