News
New War Report launched in Geneva reaffirms the fact of occupation of Azerbaijan`s lands by Armenia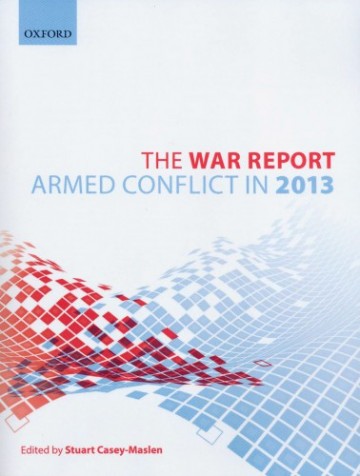 The new War Report launched on December 2014 at the Graduate Institute of International and Development Studies in Geneva made publicly available since 2015, according to Permanent Mission of the Republic of Azerbaijan to the United Nations Office and other international organizations at Geneva.
The War Report was prepared by the Geneva Academy of International Humanitarian Law and Human Rights – a joint centre of the Graduate Institute and University of Geneva – and was published by Oxford University Press..
The report provides extensive information with regard to 39 armed conflicts that occurred on the territory of 26 states during 2013. The objective of the War Report is to serve as a source of reference and information on the conflicts around the globe for states, UN and its specialized agencies, international non-governmental organizations and academic circles.
The fact of the occupation of the territories of Azerbaijan by Armenia and the continued military aggression of Armenia against Azerbaijan was unequivocally reaffirmed in the report. Furthermore, the report emphasized that the only parties to the conflict are Armenia and Azerbaijan. The occupation of more than one-seventh of the territory of Azerbaijan, as well as the obligations of Armenia as an occupying power were mentioned at the pages 44-48 of the report, devoted to the conflict between Armenia and Azerbaijan. This very part of the report is entitled "Military occupation of Azerbaijan by Armenia".
The Geneva Academy of International Humanitarian Law and Human Rights aims to conduct and promote scientific research, organise training courses and expert meetings and provide legal expertise in the branches of international law relating to situations of armed conflicts. Geneva Academy was founded jointly in 2007 by the Faculty of Law of the University of Geneva and the Graduate Institute of International and Development Studies. The University of Lausanne, the International Committee of the Red Cross, the Office of United Nations High Commissioner for Human Rights and the Swiss Federal Department for Foreign Affairs contribute to achieving the objectives of the Academy.
The first edition of the War Report covered the year of 2012 and was launched on December 2013.