News
President of the Republic of Azerbaijan Ilham Aliyev and President of the French Republic Francois Hollande had dinner together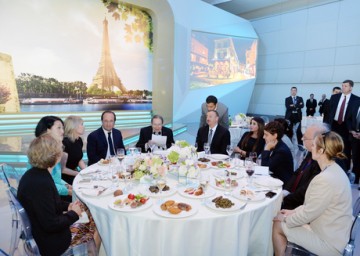 After the completion of the Azerbaijani-French business forum, President of the Republic of Azerbaijan Ilham Aliyev, his wife Mehriban Aliyeva and President of the French Republic Francois Hollande had dinner together.

The renowned French theatre and cinema actor of Azerbaijani descent and art director of the Marini theatre of Paris, Robert Hossein, said in remarks at the dinner reception:
- I am overjoyed and proud to note that I am a son of this country. If I may say so, I personify the great friendship between our two countries both of which are my motherlands. I was born in the beloved country of France. But I at the same time, I am a son of the country which I envy – Azerbaijan. Both countries have achieved development. In comparison with other countries, women in both of these republics occupy an increasingly important place in society and are on an equal footing with men. The President of the French Republic will probably know that synagogues, mosques and Orthodox churches coexist in this capital city of Baku side by side and have no problems.
Robert Hossein said that his grandfather was born in Azerbaijan and his father in Samarkand. He noted that while living in France they made an invaluable contribution to world culture and art. Their works are now shown on various stages, while this tradition is continued today by the son of Robert Hossein – Pierre.
Meeting with the heads of state after the ceremony, Pierre Hossein played the Azerbaijani tar.
President Ilham Aliyev and his wife Mehriban Aliyeva said goodbye to French President Francois Hollande.