News
President Ilham Aliyev attended the opening of Park Chalet hotel at the Shahdag winter and summer tourism complex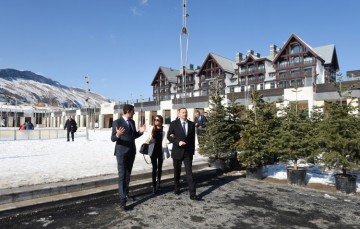 President Ilham Aliyev and his wife Mehriban Aliyeva have visited the Shahdag winter and summer tourism complex.
The head of state and his wife attended the opening of Park Chalet Shahdag hotel, cableway No 1 and a ski slope.
The Shahdag winter and summer tourism complex is located in the Shahdag National Park, 32 km from the center of Gusar district. The Shahdag winter and summer tourist complex differs from similar facilities existing in the world for its uniqueness and versatility. Preparations for the construction of the complex commenced in 2006. The bidding conducted at the time was won by the world's leading companies. In September 2009, the foundation of the complex was laid with the participation of President Ilham Aliyev.
Following an instruction of the President, the road into the Shahdag winter and summer tourist complex was expanded, bridges built, protective measures taken to prevent landslides, etc. The area under construction is environmentally friendly and rich in flora and fauna. The facility is located at an altitude of 1,300-2,300 meters above sea level. The complex covers an area of 2,058 hectares. The Shahdag winter and summer tourist complex, one of the most advanced projects not only in Azerbaijan but also in the world, will operate all the year round.
This project will create opportunities for the development of skiing and other winter sports in the country. Tourists will be able to fully relax here during the summer season as well.
The Shahdag winter and summer tourist complex is Azerbaijan's first ski resort. The construction is carried out in several stages.
President Ilham Aliyev cut the ribbon symbolizing the official opening of the hotel.
Park Chalet Shahdag is located 210 km northwest from Baku. It has 164 suits. General Manager of Park Chalet Shahdag hotel Stuart de San Nicolas said it was Absheron Hotel Group`s second hotel. The first hotel, Pik Palace Shahdag, was inaugurated by President Ilham Aliyev in 2013.
The head of state and his wife reviewed the rooms of Park Chalet Shahdag. The suits of the hotel meet modern standards and are built in high design. Excellent conditions created at Park Chalet Shahdag once again testify to the development of hotel business in Azerbaijan and its growing role in the non-oil sector. There is a network of modern restaurants in the hotel which offer tourists dishes of Azerbaijani and world cuisine. There are gyms, pools, fitness and SPA centers in the hotel. There is also a 130-seat multifunctional conference hall. The business center in the hotel will operate round-the-clock.
After reviewing the hotel, President Ilham Aliyev had a meeting with its staff.
Then a picture was taken.
The head of state was informed that the hotel has highly-skilled staff, mostly local specialists.
All hotels, parking lots, ski slops, cableways and other facilities are connected to the road by underground tunnels.