News
President Ilham Aliyev received a delegation led by the Minister of Economic Affairs and Finance of Iran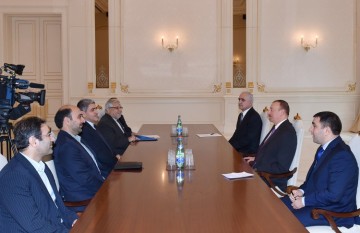 President of the Republic of Azerbaijan Ilham Aliyev has received a delegation led by Minister of Economic Affairs and Finance of the Islamic Republic of Iran Ali Tayyebnia.
The head of state expressed confidence that the visit of the delegation led by Minister Ali Tayyebnia would be successful and important in terms of defining prospects for further cooperation. President Ilham Aliyev noted that there were good opportunities for cooperation between the two countries in the economic sphere.
The head of state recalled with pleasure a visit of President of the Islamic Republic of Iran Hassan Rouhani to Azerbaijan, and stressed the importance of a business forum held as part of the visit with the participation of the two countries` businessmen. President Ilham Aliyev described ideas articulated at the forum as an expression of existing mutual interest in cooperation in the economic area.
Minister Ali Tayyebnia conveyed greetings on behalf of President of the Islamic Republic of Iran Hassan Rouhani to the head of state. He noted that thanks to efforts of the Azerbaijani and Iranian presidents the development of bilateral relations entered a new stage. The Iranian Minister said together with Azerbaijani counterparts he would spare no efforts to contribute to further expansion of the bilateral ties in a variety of fields.
The head of state thanked President Hassan Rouhani for his greetings, and asked Minister Ali Tayyebnia to communicate his greetings to the Iranian President.