News
President Ilham Aliyev: Azerbaijan has always actively participated in international fight against terrorism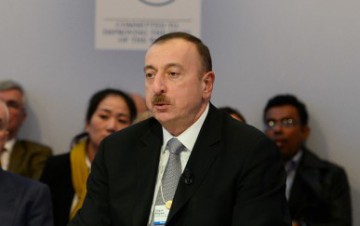 Informal gathering of the world economic leaders has been held in Davos.
President of the Republic of Azerbaijan Ilham Aliyev attended "Tackling Violent Extremism" session.
In his speech the Head of State touched upon the terror incidents in international arena, and spoke about problems that Azerbaijan faced in fight against different manifestations of terrorism.
President Ilham Aliyev said Armenian side perpetrated more than 30 terror acts against Azerbaijan in various periods, as a result of it more than 2000 Azerbaijanis were killed.
The Head of State said when Azerbaijan chaired the UN Security Council one of two issues put on discussions by the country was dedicated to terrorism.
The Head of State said Azerbaijan has always actively participated in international fight against terrorism and was one of the active members of anti-terrorism coalition.
On January 23, President Ilham Aliyev`s working visit to Switzerland ended.