News
President Ilham Aliyev met the CEO of Sberbank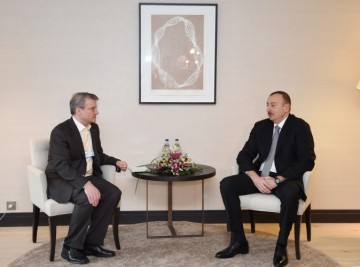 President of the Republic of Azerbaijan Ilham Aliyev has met CEO of Sberbank of Russia Herman Gref in Davos.
The CEO of Sberbank said development processes in Azerbaijan were watched with interest, adding the country enjoyed successful cooperation with relevant financial and banking institutions. Saying that Azerbaijan became an attractive country in terms of investment making thanks to rapid development of economy, Herman Gref expressed confidence that fruitful cooperation between Sberbank and relevant institutions in Azerbaijan would continue.
President Ilham Aliyev highlighted ongoing economic development processes in Azerbaijan, saying the country is carrying our important reforms in the banking, financial and energy systems, and pursuing successful policy in the field of investment. The head of state emphasized the significance of the creation of favourable conditions for investment making in Azerbaijan, noting that Azerbaijan is also making investment in foreign countries. President Ilham Aliyev said Azerbaijan`s financial institutions enjoyed fruitful cooperation with Sberbank. The head of state expressed confidence that this cooperation would continue.
The parties discussed cooperation prospects.