News
President Ilham Aliyev met German Chancellor Angela Merkel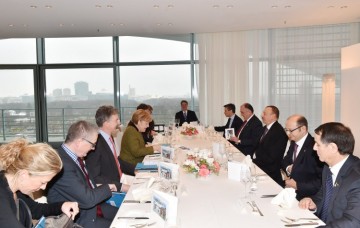 President of the Republic of Azerbaijan Ilham Aliyev has met Chancellor of the Federal Republic of Germany Angela Merkel in Berlin.
German Chancellor Angela Merkel said the visit was important in terms of discussing prospects for the bilateral ties. Angela Merkel said Germany was interested in expanding cooperation with Azerbaijan, saying the country is playing a profound role in the diversification of European energy supply routes, execution of large-scaled projects such as TAP and TANAP, and the Eastern Partnership initiative.
Angela Merkel said more German companies were interested in participating in the diversification of Azerbaijan`s economy and implementation of infrastructure projects.
Saying that Azerbaijani-German relations were successfully developing, President Ilham Aliyev noted that his visit created good opportunities for discussing the development of the bilateral ties. On the Armenian-Azerbaijani Nagorno-Karabakh conflict, the head of state spoke of Armenia`s continuing aggression against Azerbaijan, official Yerevan`s non-constructive position, and the current state of talks.
President Ilham Aliyev noted with satisfaction active participation of many German companies in the diversification of Azerbaijan`s economy, and added that there was good potential for enhancing the cooperation.
The head of state also touched upon Azerbaijan-EU relations, saying they were successfully developing.
Regional, international and other issues of mutual interest were discussed at the meeting.