News
President Ilham Aliyev met members of the German-Azerbaijani Forum and Bundestag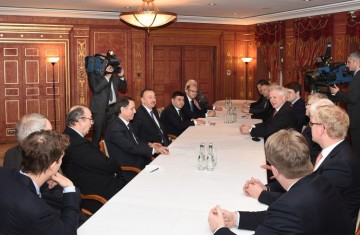 President of the Republic of Azerbaijan Ilham Aliyev has met members of the German-Azerbaijani Forum, Bundestag members from Christian Democratic Union/Christian Social Union (CDU/CSU) parliamentary group, Social Democratic Party of Germany and The Greens party, and heads and members of Bundestag committees in Berlin.
The importance of President Ilham Aliyev`s meeting with members of the German-Azerbaijani Forum during the visit was emphasized at the meeting. The parties noted the significance of the meeting in terms of conducting a fruitful exchange of views on the state and prospects of Azerbaijani-German cooperation in politics, economy, culture, science and other areas. Successful cooperation between the two countries was underlined, and it was said that inter-parliamentary ties considerably contribute to this process.
The Armenian-Azerbaijani Nagorno-Karabakh conflict was discussed, and President Ilham Aliyev informed the meeting participants of Azerbaijan`s position on the dispute. The head of state stressed the importance of solving the conflict in compliance with international legal norms and principles, within Azerbaijan`s territorial integrity.
The parties discussed Azerbaijani-German energy cooperation, economic relations, cooperation in the fields of technology and medicine, as well as the participation of new German companies in Azerbaijan`s economy. The sides also had a broad exchange of views on the bilateral inter-parliamentary ties, cooperation within international organizations, particularly the Council of Europe and the European Union, and the issues related to the participation in the Eastern Partnership initiative. It was stressed that in this context there must be a just attitude towards Azerbaijan.