News
'Continuation of occupation of Azerbaijan's territories by Armenia is main threat to peace and stability in region'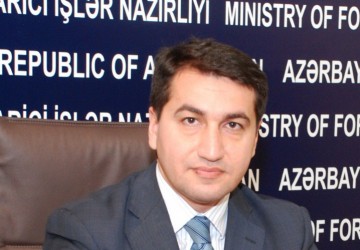 "The continuation of occupation of Azerbaijan's territories by Armenia and the presence of the Armenian armed forces in the occupied territories of Azerbaijan are the main threat to peace and stability in the region," said head of Press Service of Azerbaijan`s Ministry of Foreign Affairs Hikmat Hajiyev, who commented on the statements by spokesperson for the United States Department of State Jen Psaki regarding the tension on the front line.
Hajiyev noted that as stated by the spokesperson of the Department of State, both sides should engage in negotiations for a peace agreement.
"Unfortunately, Armenia is trying to prevent the commencement of work on the Great Peace Agreement through its provocative acts. The recent tension along the frontline is a good example of it."
He said Jen Psaki also hinted at the prevention of the incidents taking place on the Armenia-Azerbaijan border and the contact line of troops.
"Official Baku has repeatedly stated that the first step toward intercepting incidents of this kind and reaching a peaceful resolution to the conflict in general should be the withdrawal of Armenia's military from occupied Azerbaijani lands," he added.