News
President Ilham Aliyev reviewed newly delivered Boeing-787-8 Dreamliner at the Heydar Aliyev International Airport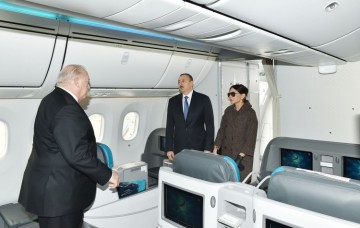 President of the Republic of Azerbaijan Ilham Aliyev and his wife Mehriban Aliyeva have reviewed newly delivered Boeing-787-8 Dreamliner airplane, which belongs to the "Azerbaijan Airlines" CJSC (AZAL), at the Heydar Aliyev International Airport.
President of the "Azerbaijan Airlines" CJSC Jahangir Asgarov informed the head of state about the airplane.
The Boeing-787-8 is the most modern airplane. The airplane uses 20 percent less fuel. The Dreamliner can carry 210 passengers on routes of 15,700 kilometers. At the initial stage the airplane will carry out flights from Baku to Beijing, London and other European countries. In summer 2015 the Dreamliner will start flights to New York.
Azerbaijan is the first country in the CIS, where this airplane was delivered.