News
President Ilham Aliyev reviewed ongoing work at the Baku Olympic Stadium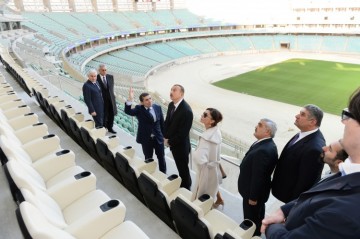 President of the Republic of Azerbaijan Ilham Aliyev and chairperson of the Baku 2015 First European Games Organizing Committee Mehriban Aliyeva have reviewed ongoing work at the Baku Olympic Stadium.
President of the State Oil Company of the Azerbaijan Republic Rovnag Abdullayev informed President Ilham Aliyev about the work carried out here.
The foundation stone for the stadium was laid in June, 2011. Work is continuing rapidly and with high quality in the Olympic Stadium. A main part of the construction work on the project has been over.
President Ilham Aliyev and Azerbaijan`s first lady were informed about the interior of the Baku Olympic Stadium. All conditions have been created here.
President Ilham Aliyev and his wife Mehriban Aliyeva regularly review the progress of construction at the Baku Olympic Stadium, and give their instructions and recommendations. It was noted that the 68,000-seat Baku Olympic Stadium would be built in a modern architectural style and occupy a special place among similar facilities. The stadium, to be built to international standards, will have stands with different functions, running tracks and other infrastructure. The six-storey stadium occupies an area of 50 hectares. The facility will consist of the main and auxiliary stadiums, an auxiliary building, as well as sections for VIP, CIP, media and disabled spectators. The pitch will have four entrance gates, while the stands will have 26 gates. Taking into account that in accordance with Olympic norms people come to the stadium on foot or by public transport a 3,103-capacity car park is being built on the territory.
A 82,000 square meter green area is being laid out around the stadium.
President Ilham Aliyev gave relevant instructions and recommendations.