Agenda
President Ilham Aliyev: Every official must serve people with honor and dignity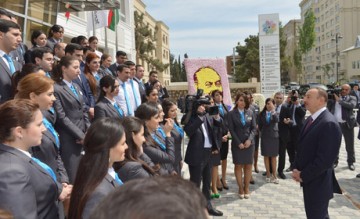 "Asan Service is an Azerbaijani product and Azerbaijani brand. Within short time, this service received 1.5 million requests. And 97% of applications are satisfied with the Asan Service. I am sure that other countries will apply this practice too," said President of Azerbaijan Ilham Aliyev in a meeting with staffers of the Asan service at the opening of the the Baku Center "ASAN Xidmət" No 4 of the State Agency for Public Services and Social Innovation..
The Head of State noted that service, care and attention to people must be at the highest level.
"I reiterated that every public servant must serve people with dignity and honor and creation of the Asan Service is the result of this policy," he said.