News
President Ilham Aliyev attended a ceremony to inaugurate the fast crew boat after world-renowned singer Muslim Magomayev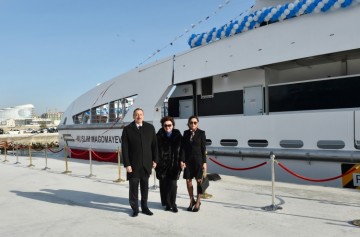 A ceremony to inaugurate the fast crew boat after People's Artists of the USSR, world-renowned singer Muslim Magomayev has been held.
President of the Republic of Azerbaijan Ilham Aliyev, his wife Mehriban Aliyeva and spouse of Muslim Magomayev, People's Artists of the USSR Tamara Sinyavskaya attended the ceremony.
Tamara Sinyavskaya cut the ribbon symbolizing the launch of the boat.
Then Muslim Magomayev`s famous "Azerbaijan" song was performed.
President Ilham Aliyev reviewed the conditions created at the facility. Chairman of "Azerbaijan Caspian Shipping Company" CJSC Rauf Valiyev informed the head of state that the fast crew boat Muslim Magomayev was purchased under a long-term alliance agreement with Caspian Marine Services company. The length of the boat is 70m, width is 16m, and height of the side is 6m. It was built with lightweight marine-grade aluminium. The world's largest fast crew was constructed at Australian Incat Tasmania shipyard. Having completed sea trials, the boat departed to Baku on October 4. A corner reflecting photos of Muslim Magomayev was created at the facility. President Ilham Aliyev was told that the boat arrived in Baku port on December 4. The facility can carry 150 passengers.
People's Artists of the USSR Tamara Sinyavskaya thanked President Ilham Aliyev for his attention to memory of Muslim Magomayev.
President Ilham Aliyev highlighted the creative work of Muslim Magomayev, adding his memory will live forever in the hearts of the people of Azerbaijan.
Tamara Sinyavskaya pushed the button to launch the boat.
The new high-speed boat will allow operational efficiency over helicopter transfer for both passengers and cargo, while reducing stress on passengers.