News
President Ilham Aliyev received members of Qarabag football club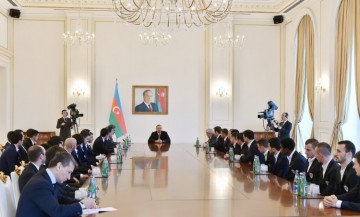 President of the Republic of Azerbaijan Ilham Aliyev has received members of Qarabag football club.
The head of state hailed the club`s performance in international tournaments. President Ilham Aliyev said development of football was among key priorities in the government policy. The head of state highlighted Azerbaijani sportsmen`s achievements in international tournaments.
Coach Qurban Qurbanov thanked President Ilham Aliyev for supporting the activities of the club.
Vice-President of Qarabag football club Tahir Guzel thanked the head of state for his attention to the development of sport in the country.
In conclusion a picture was taken.