News
Maltese Premier deeply impressed by Icheri Sheher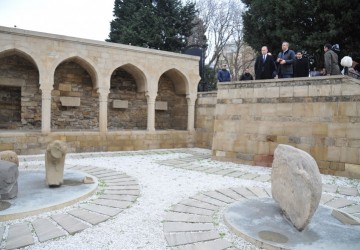 Prime Minister of the Republic of Malta Joseph Muscat familiarized himself with Icheri Sheher, the old, Inner City of Baku.
The high guest reviewed the famous Maiden Tower, was informed on unusual architectural features of the monument.
Great interest in the guest was caused also by acquaintance with the exposition organized in the territory of the religious and architectural complex of Siratagli.
The Prime Minister was informed that the National Historical and Architectural Park "Icheri Sheher" has been included in the World Heritage List of UNESCO, where the repair, improvement and restoration works are underway currently. It was noted that in the territory of the Icheri Sheher there are unique historical and architectural monuments of various centuries.
The Prime Minister of Malta also reviewed the two-storey Karavansaray.
Mr. Joseph Muscat signed the Book of Honorable Guests of the Historical-Architectural Reserve Icheri Sheher.