News
President Ilham Aliyev attended the opening of the Baku Center "ASAN Xidmət" No 4 of the State Agency for Public Services and Social Innovation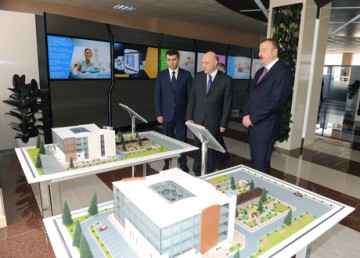 The opening of the Baku Center "ASAN Xidmət" No 4 of the State Agency for Public Services and Social Innovation under the President of the Republic of Azerbaijan has been held on May 7.
The opening of the center was attended by President of the Republic of Azerbaijan Ilham Aliyev.
The head of state reviewed the activities of the center.
The head of the department for work with law-enforcement agencies of the Presidential Administration, Fuad Alasgarov, said that the Baku Center "ASAN Xidmət" No 4 would provide services to some 407,700 people registered in the Sabunchu, Khazar and Pirallahi districts of the capital.
A total of 10 state agencies provide 30 types of services at the center. In addition, there are 28 types of functional support services on offer. The center operates a room of innovation fitted with cutting-edge equipment.
The services of the center are also fully available to people with disabilities. To ensure unhindered movement of the visually impaired about the center, its floors are covered with a special coating.
It was noted that outside the "ASAN xidmət" center No 4 there is a "Children's automobile camp", which has all the conditions for children to learn traffic rules and become familiar with traffic signs.
The objectives of the "ASAN xidmət" center are to provide legal services that are otherwise provided by government authorities, ensure transparency, eliminate cases of corruption, apply advanced technology, use the principle of "one window", develop a new way of thinking between civil servants and citizens, and promote the philosophy that the "duty of civil servants is to ensure the rights of citizens".
Then the President met with the staff of the center.
In conclusion, a picture was taken.