News
President Ilham Aliyev met with President of Turkey Abdullah Gul-A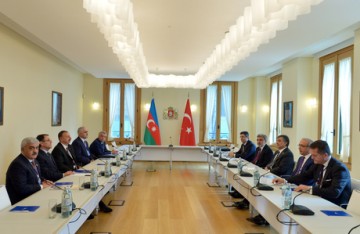 On May 6, President of the Republic of Azerbaijan Ilham Aliyev has met with President of Turkey Abdullah Gul in Tbilisi.
During the meeting the sides stressed that the friendly and fraternal relations between the two countries were developing successfully in all areas. The presidents noted the importance of the global projects being implemented by the two countries. It was indicated that the Tbilisi summit served to further expand the relations between the two countries and peoples. The sides emphasized the contribution of bilateral relations to regional cooperation.
The heads of state also exchanged views on issues of mutual interest, regional and international affairs.