Agenda
Ali Ahmadov: youth who can be worthy representatives of Azerbaijan`s future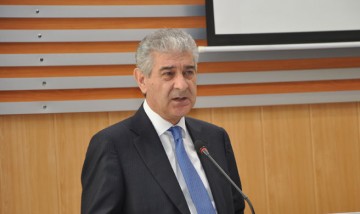 "With national leader Heydar Aliyev`s coming to power, Azerbaijan overcome difficulties and entered the normal development stage. With this, the stability, peace was established in our country and civil society was built. As a result of this, we speak of Azerbaijan, strong development. Of course, youth of the country contribute to development," said Deputy Chairman-Executive Secretary, Deputy Premier of Azerbaijan, Ali Ahmadov.
In general, our society is young and youngsers occupy a special place in the composition of the people. YAP Deputy Chairman said that youth play an active role in the life of the country and young generation take an active part in the process of development of Azerbaijan. According to him, modern youth demonstrates comitment to national moral values.
Deputy Prime Minister said that Azerbaijani youth never forget ideas of the great leader Heydar Aliyev and refer to these ideas fully because these ideas helped to form them. Ali Ahmadov noted that national leader Heydar Aliyev`s youth policy used existing opportunities in Azerbaijan to form our youth perfectly.