News
Azerbaijan, Turkey: prospects of ties between armed forces discussed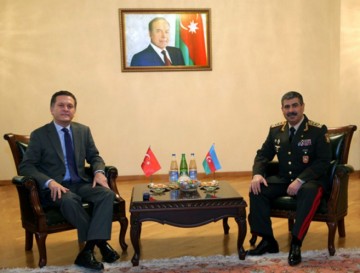 Azerbaijani Defense Minister, Colonel-General Zakir Hasanov met with the Turkish ambassador to the country İsmayıl Alper Coşkun.
The discussions revolved around the actions jointly implemented, the importance of bilateral military cooperation, the military-political situation in region, the necessity of settlement of the Armenia-Azerbaijan, Nagorno Karabakh conflict for region.
The sides underlined the importance of organizing reciprocal visits of the representatives of the armed forces of both countries, joint trainings on military-technical education and strengthening of cooperation in the coming years.
The Minister and Ambassador had comprehensive exchange of views on the prospects of all-sided relations.