News
President Ilham Aliyev visited Museum of Azerbaijani Culture named after Mirza Fatali Akhundzadeh in Tbilisi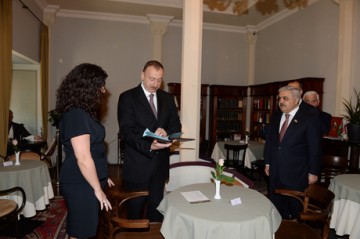 As part of a working visit to Georgia, President of the Republic of Azerbaijan Ilham Aliyev has visited the Museum of Azerbaijani Culture named after Mirza Fatali Akhundzadeh in Tbilisi.
The President was informed that the building was originally constructed at the expense of M. F. Akhundzadeh, who used to live and work in Tbilisi. Following appeals by representatives of the Azerbaijani intelligentsia in Georgia, a house-museum of M. F. Akhundzadeh was established here in 1982. In 1996, after the official visit of great leader Heydar Aliyev to Georgia, the museum was overhauled and has since operated as a Center of Azerbaijani Culture.
In 2007, in accordance with a decree of the President of Georgia, the center received the status of a museum of Azerbaijani culture.
It was noted that in 2013 the museum was renovated and reconstructed with financial support from the Republic of Azerbaijan. On 8 May of the same year, the museum was opened.
Currently the museum operates a culture center. The center has courses on carpet-weaving, music, mugham, painting and languages. The main activities of the museum include preservation and promotion of Azerbaijani culture and the cultural heritage of our people in Georgia.
By identifying national assets associated with the cultural heritage of Azerbaijan in various museums of Georgia, the museum explores them and holds exhibitions. It also organizes cultural events and conferences. The museum operates the "Majlis of wisdom", which carries on the literary activities of "Divani Hikmat" organized by Mirza Shafi Vazeh in Ganja in 1820-1830.
The museum has six exhibition halls, which demonstrate Azerbaijani folk music instruments, clothes, examples of folk art, artifacts reflecting the life and activities of M. F. Akhundzadeh, his personal belongings, covers of works published in different languages, pictures of poets and writers who communicated with the outstanding Azerbaijani playwright, copies of concert posters of the time, etc.
One of the halls is dedicated to the Azerbaijani-Georgian friendship. It displays works of Azerbaijani and Georgian sculptors describing the friendly relations between the two peoples, photographs of the recreation park in Tbilisi named after great leader Heydar Aliyev, a school and a library named after M. F. Akhundzadeh, an avenue in Tbilisi and the "Monument to Friendship" in Baku.
The museum operates the only Azerbaijani-language library in Tbilisi. The building also has a gallery and a library café called "Monsieur Jordan". There is a wax figure of M. F. Akhundzadeh at the café.