News
First lady and Leyla Aliyeva at an exhibition in Paris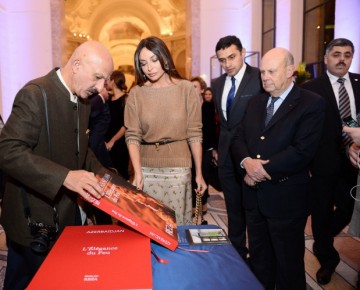 "This made me show the tragedy to the world".
The presentation of the photo exhibition and two books of world-famous photographer Reza Deghati about Azerbaijan was held with the steering support oft the Heydar Aliyev Foundation in Paris on 28 November.
The event was attended by the first lady of Azerbaijan, President of the Heydar Aliyev Foundation Mehriban Aliyeva and vice president of the Foundation Leyla Aliyeva.
Sources in the Foundation told Oxu.Az that the exhibition was organized in the famous Pöti Pale exhibition and museum complex.
The guests were informed about Azerbaijan and the rich culture and history of our country. It was noted that the exhibition caused a great interest in Paris.
World famous photographer Reza Deghati thanked the president of the Heydar Aliyev Foundation Mehriban Aliyeva for the organization of the exhibition and noted that Azerbaijan is a very tolerant, wonderful and rich country.
He noted that he spent a great part of his life in conflict areas.
"The things I experienced during Nagorno Karabakh conflict were the sad stage in my life. What I saw in Khojaly stuck in my memory forever and made me show this tragedy to the world".
The presentation of two books by Reza Deghati was also held as part of the exhibition. The books 'Magic of fire' and 'Massacre of the innocent', published with the support of the Heydar Aliyev Foundation feature the photos demonstrated at the exhibition.
The famous photo journalists paid his first visit to Azerbaijan in 1987. He lived for several months in Azerbaijan in 1997 and travelling around the country, featured the daily life and traditions of ordinary people.
In 2013 Paris hosted Deghati's exhibition 'Azerbaijan – a space of tolerance'. It was also demonstrated in Moscow, different cities of Israel, as well as the head office of the UN, the European parliament.