News
President Ilham Aliyev received the credentials of the newly-appointed Maltese Ambassador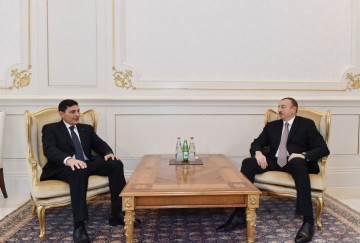 President of the Republic of Azerbaijan Ilham Aliyev has received the credentials of the newly-appointed Ambassador Extraordinary and Plenipotentiary of the Republic of Malta John Debono.
Ambassador John Debono reviewed the guard of honor.
John Debono handed his credentials to President Ilham Aliyev.
President of Azerbaijan Ilham Aliyev then had a conversation with the Ambassador.
The head of state noted that bilateral relations between the two countries were at a high level. President Ilham Aliyev recalled with pleasure his meeting with the Prime Minister of the Republic of Malta and their discussions on the development of the bilateral ties. Stressing that the two countries already maintain cooperation in the energy sector, the head of state underlined the necessity of expanding bilateral bonds in other spheres.
Ambassador John Debono said his country was interested in enhancing bilateral relations with Azerbaijan on various fronts.
During the meeting, the sides exchanged views on the issues related to cooperation between Azerbaijan and the European Union.