News
Korean Prime Minister Chung Hongwon: I`m deeply impressed that the Azerbaijani nation and society is showing great dynamism moving forward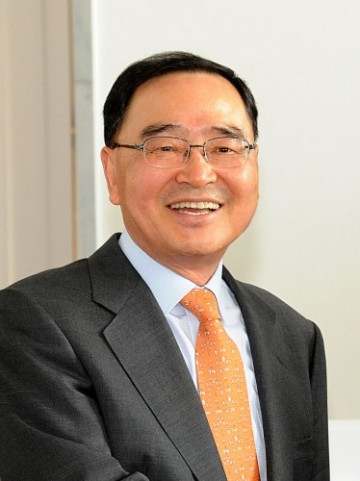 In his exclusive interview to AzerTAc`s correspondent, Korean Prime Minister Chung Hongwon has highlighted Azerbaijani-Korean relations, and outlined prospects for future bilateral cooperation.
- This year marks the 22nd anniversary of the establishment of diplomatic relationship between Azerbaijan and the Republic of Korea. It is the second visit of a Korean Prime Minister to Azerbaijan after the first took place in 2008. How would you evaluate the current state of relations between Baku and Seoul?
- Even in the short time since the bilateral diplomatic ties were established, the relations between Korea and Azerbaijan have been developing rapidly in a whole range of areas - these include the exchange of high-ranking officials, economic cooperation and people-to-people and cultural exchanges. And our two countries continue to cooperate closely in the international community such as at the UN.
I believe that His Excellency President Ilham Aliyev, who visited Korea twice - in 2007 and 2012 - with his special interest in and deep affection for the development of the bilateral relations has played a key role in achieving this.
I understand that the Republic of Azerbaijan is currently seeking to identify ways to upgrade its economy to the next level through the development of non-oil industries and the modernization of infrastructure. And I am convinced that the Republic of Korea is indeed an ideal partner for moving forward together towards a future of even greater shared growth and common prosperity.
As the Prime Minster of the Republic of Korea, I will indeed continue to take a deep interest in and provide support for the further development of our bilateral relations in a whole range of areas and for the promotion of the level of exchanges and deepening of mutual understanding between our peoples.
- The volume of trade is one of the main signs of successful bilateral relationship. Bilateral trade between Azerbaijan and Korea totaled $300 mln in 2013. Do these figures correspond to the economic growth rate and political relationship of the two countries?
- Although the trade volume of 300 million US dollars does not fully reflect the great potential of our two nations, the recent rapid rate of increase in trade is a notable development.
In 2003, the bilateral trade amounted to only 10 million US dollars. Yet in the last decade there has been a 30 fold increase in the trade volume between Korea and Azerbaijan. And I believe that this is thanks to the complementary economic structures and indeed the great will for cooperation on the part of both governments and the private sector.
I am delighted to note the great expansion of cooperation between Korean and Azerbaijan companies in all sectors including the construction of highways, subways, petrochemical plants and a Stadium for the European Games in Azerbaijan, and I believe that the trade and investment volume will increase accordingly.
Innovations and new technologies could be mentioned the new locomotives of the development. What kind of innovations and new technologies could Korea offer to Azerbaijan?
Korea has cutting-edge technologies in several industries such as automobiles, semiconductors, petrochemicals, shipbuilding and IT, and also has an advantage in building an innovative ICT ecosystem which systematically encompasses information technology and infrastructure building, and network and the contents it carries.
The modern Intelligent Transportation System, which includes Transport Management Center in Baku and real-time information screens at every bus stop in Baku, is an excellent example of successful cooperation between our two countries in the field of new technology.
Moreover, since December the Korean Government and companies have also successfully been implementing pilot projects in establishing 'smart classes', which will provide students and teachers with cutting-edge technology in education.
I believe that there is great potential for bilateral cooperation. Azerbaijan is actively pursuing economic development by diversifying industry and securing new engines for growth. Korea has a significant technology and commercialization capacity. There is therefore great scope for cooperation between our two countries.
- In the United Nations E-Government Survey 2014, Azerbaijan ranks 68th ahead of China and Turkey. What is your vision of the prospects for Azerbaijani-Korean cooperation in this area?
I note with great satisfaction the rapid development of Azerbaijan's E-government system which ranked 68th in the 2014 e-government survey by the UN, reaching a ranking 28 levels higher compared to 2010.
The E-government system is a very valuable form of infrastructure that serves to enhance the effectiveness of public service in procurement, data storage, and administration, and brings greater convenience in people's daily lives.
Korea is actively sharing its experience and know-how with Azerbaijan for the establishment and development of the country's e-government system.
The Korea International Cooperation Agency (KOICA) is currently implementing a project for the establishment of an e-government education center in Azerbaijan's Ministry of Communications and High Technologies, and is providing several related training programs for government officials of Azerbaijan.
Korea will also seek to expand future-oriented cooperation with Azerbaijan in a range of areas such as the e-procurement system and integrated financial management information systems.
- Favorable business environment in Azerbaijan attracted Korean companies to put investment in our country. What are possible fields to be invested by Korean companies?
- According to Doing Business 2015, the World Bank Group publication on business environment indexes, the Republic of Azerbaijan surpassed eight more countries this year, moving up from a ranking of 88th in 2014 to 80th in 2015. In particular, Azerbaijan is business-friendly in the areas of business creation, tax systems, and property registration, in which it has been ranked at 12th, 33rd and 10th, respectively.
Moreover, I believe that Azerbaijan is a very attractive investment destination for Korean companies since, in addition to its traditional oil and gas industries, Azerbaijan is indeed developing rapidly in a whole range of fields spanning infrastructure and construction, nuclear energy, the defence industry, ICT, and renewable energy.
- Please share with us your impressions of Baku and Azerbaijan.
I am aware that Azerbaijan is a hub of the civilization of the Caucasus, and its Capital city of Baku is well known for its inextinguishable flame since the Middle Ages.
During my stay here I have gained a deep sense of vitality and life all over the city of Baku. I have been deeply impressed that under the distinguished leadership of His Excellency President Ilham Aliyev, the Azerbaijani nation and society is showing great dynamism moving forward whilst also achieving a great harmony between the ancient and modern Azerbaijan.
I have now gained an even deeper belief that Azerbaijan will indeed take much greater strides forward in the future as a hub of the Caspian region and Central Asia.
Furthermore, I feel a strong sense of the emotional bond between our two countries and a sense that irrespective of the geographical distance between us we are in fact very close neighbors. There is in fact a great deal of common ground between us in terms of our traditions and customs: we share a respect for elders, we both extend a very warm welcome to guests, and even the languages we speak are from the same Altaic family.
I would like to reaffirm that, with the heartwarming friendship extended to me by the Azerbaijani Government and people deep in my heart, I will exert devoted efforts to further deepen the close ties of cooperation between our two countries.