News
President Ilham Aliyev received the credentials of the newly-appointed Philippine Ambassador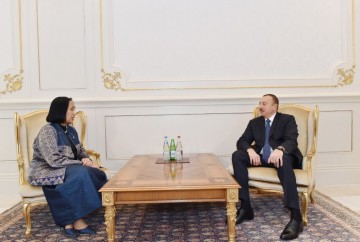 President of the Republic of Azerbaijan Ilham Aliyev has received the credentials of the newly-appointed Ambassador Extraordinary and Plenipotentiary of the Republic of the Philippines Maria Rowena Mendoza Sanchez.
Ambassador Maria Rowena Mendoza Sanchez reviewed the guard of honor.
The diplomat handed his credentials to President Ilham Aliyev.
President of Azerbaijan Ilham Aliyev then had a conversation with the Ambassador.
Ambassador Extraordinary and Plenipotentiary Maria Rowena Mendoza Sanchez conveyed greetings on behalf of President of the Republic of the Philippines Benigno Aquino III to the head of state. Highlighting friendly relations between the two countries, the Ambassador noted with pleasure that the two nations share common values.
Hailing the development of bilateral ties between Azerbaijan and the Philippines, President Ilham Aliyev said there were good opportunities for the expansion of relations on various fronts, including political, economic, humanitarian and other spheres.
The head of state expressed his gratitude for the greetings of President Benigno Aquino III and asked the diplomat to communicate his greetings to the President of the Philippines.