News
Baku 2015 European Games unveils commemorative stamps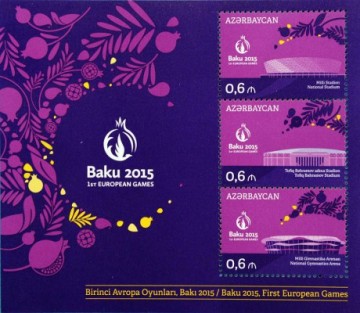 Baku 2015 European Games has unveiled the first edition of six commemorative postage stamps to celebrate next summer's inaugural event.
The colourful stamps are unique artistic illustrations featuring six of the Baku 2015 venues, including the new National Stadium that will host the Opening and Closing Ceremonies, as well as Athletics, next year.
Other venues featured include the Tofiq Bahramov Stadium, Crystal Hall, Heydar Aliyev Arena, Baku Aquatics Centre and the National Gymnastics Arena.
Iltimas Mammadov, Azerbaijan's Deputy Minister of Communication and High Technologies, said: "These beautiful stamps showcase just some of the world-class venues that will host elite sport in Baku next summer.
"They will become popular all over Azerbaijan as memories of the spectacular summer of sport that will unite Europe in celebration."
Each stamp has the value of 60 qepik, and there will be a second edition released next year featuring illustrations of all 20 sports that will take place at Baku 2015. A third commemorative book featuring all 26 stamps together will also be released at a future date.
Azad Rahimov, Azerbaijan's Minister of Youth and Sport and Chief Executive Officer of Baku 2015, said: "The stamps are a wider part of collectable items that will be issued to mark the inaugural European Games.
"I am sure that in years to come they will be remembered not only for their striking images of our spectacular venues but come to symbolise the entire country's support for Baku 2015."