News
President Ilham Aliyev received the newly-appointed Jordanian Ambassador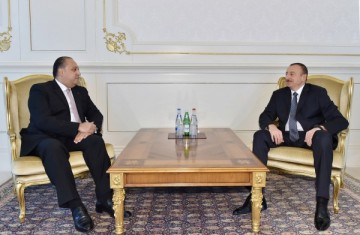 President of the Republic of Azerbaijan Ilham Aliyev has received the credentials of newly-appointed Ambassador Extraordinary and Plenipotentiary of the Hashemite Kingdom of Jordan Nassar Al-Habashneh.
Ambassador Nassar Al-Habashneh reviewed the guard of honor.
Nassar Al-Habashneh handed his credentials to President Ilham Aliyev.
Then President Ilham Aliyev spoke with the Ambassador.
Nassar Al-Habashneh conveyed greetings on behalf of Jordan's King Abdullah II to the head of state. He stressed the importance of friendly ties between President Ilham Aliyev and King Abdullah II in terms of the strengthening of Azerbaijan-Jordan relations. The Ambassador said he will spare no efforts towards developing the relations between the two countries.
Saying he has good friendly relations with the King of Jordan, President Ilham Aliyev recalled with pleasure his meetings with Abdullah II in Azerbaijan, Jordan and at different international summits and conferences.
Saying there are good bilateral ties between Azerbaijan and Jordan, President Ilham Aliyev noted the importance of further developing these relations. The head of state emphasized the significance of the two countries` mutually supporting each other in the United Nations and other international organizations.
President Ilham Aliyev thanked for the greetings of Abdullah II and asked the Ambassador to communicate his greetings to the King of Jordan.