News
Baku 2015 European Games presented in Istanbul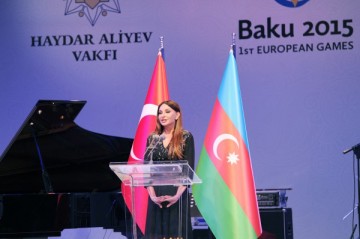 Azerbaijani first lady Mehriban Aliyeva attends the ceremony
The Heydar Aliyev Foundation has organized a ceremony to present Baku 2015 European Games in Istanbul.
Azerbaijan`s First Lady, president of the Heydar Aliyev Foundation, chair of the Baku 2015 European Games Organising Committee Mehriban Aliyeva attended the presentation ceremony, which has already been held in Cannes, Athens and Berlin.
Supported by Azerbaijan`s Embassy to Turkey, the event provided an insight into the preparatory work carried out by the Organizing Committee. It was attended by Turkish political, public, cultural and sports figures.
Participants first viewed an exhibition of bronze statues dedicated to Baku-2015. The exhibition featured more than 20 works by Azerbaijani sculptors. Participants then viewed photos of must-see places and cultural and architectural landmarks of Azerbaijan.
The host of the ceremony said Azerbaijan`s hosting the inaugural European Games testified to the country`s growing international prestige. He said Azerbaijan is becoming well positioned as a sporting nation, adding the country has gained significant experience in hosting major events.
He also hailed Azerbaijan`s achievements in international sports tournaments. "In 22 years of its independence Azerbaijan has won 26 Olympic, and nearly 2,000 world and European medals."
A message of Turkish President Recep Tayyip Erdogan and his wife Emine Erdogan was read out at the ceremony.
Azerbaijan`s First Lady, chair of the Baku 2015 European Games Organising Committee Mehriban Aliyeva addressed the event to highlight Azerbaijan`s development, and provide an insight into the preparatory work for the Baku-2015 Games.
The ceremony also featured a promotional video on Baku-2015.
Turkish Youth and Sports Minister Akif Çağatay Kiliç praised Azerbaijan`s achievements in the field of sports.
Baku will host the inaugural European Games next summer from 12 – 28 June, involving more than 6,000 athletes from the National Olympic Committees of Europe across 17 days of competition, in what will be the largest sporting event in Azerbaijan's history.
The Games were designed and are to be regulated by the European Olympic Committees (EOC) and run with the support of the Baku 2015 European Games Operation Committee (BEGOC). Baku was awarded the honour of being the first host of the Games at the 41st EOC General Assembly in Rome, on 8 December 2012. The European Games will take place every four years thereafter, with the next competition due to be held in 2019.