News
President Ilham Aliyev attended the opening of a new IDP settlement in Ganja http://azertag.az/en/xeber/810573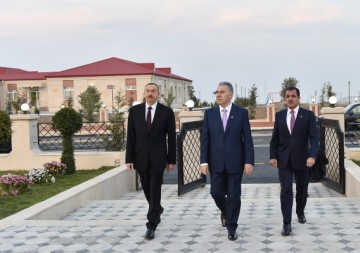 President of the Republic of Azerbaijan Ilham Aliyev has attended the opening of a new settlement for 600 IDP families in the city of Ganja.

Deputy Prime Minister, chairman of the State Committee for Affairs of Refugees and IDPs Ali Hasanov informed President Ilham Aliyev of the new settlement. The facility was built under an order of the head of state dated 2007 on supplements to the State Program for the improvement of living conditions and employment of refugees and IDPs.

The settlement is situated in Kapaz District, the city of Ganja. There are 600 houses, an administrative building, a medical center, a public center and a postal office in the settlement, which occupies a total area of 60 hectares. It will accommodate IDPs from Kalbajar District and Khojaly who live in different parts of the country, including in Ganja and Hajikand village.

President Ilham Aliyev reviewed conditions created in a kindergarten for 50 children.

The head of state then visited Khojaly District Kosalar village secondary school. There are photo stands in the foyer of the 440-seat school reflecting national leader Heydar Aliyev`s and President Ilham Aliyev`s meetings with refugee and IDPs families, and highlighting the work to solve their problems.

All classrooms of the school are fitted with necessary equipment and teaching aids. The gym here also has all necessary equipment.

Comprehensive work was carried out to build electrical power, water and gas supply systems in the settlement. This work saw the expansion of electrical power sub-stations, the construction of transformer sub-stations, a more than 30 km long water pipeline, a pump station, a more than 25 km long gas line and six regulatory gas facilities. State-of-the-art road infrastructure was created here.

President Ilham Aliyev reviewed conditions created in the houses. There are 60 one-, 255 two-, 230 three- and 55 four-room houses here.

The head of state praised conditions created in the new settlement.