Agenda
Zakir Hasanov: service to homeland, people and state is our life`s meaning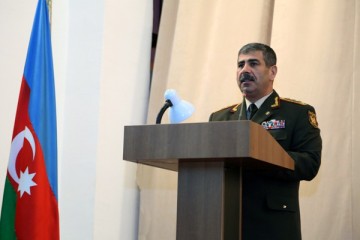 "National leader Heydar Aliyev attacked importance to protection of military traditions and paid attention to strengthening the interest in military of our youth in all periods of his youth. National leader used to note that being an officer and having a military rank is a sacred task of every youth. The military profession means protection of homeland," Defense Minister Zakir Hasanov said at the graduation ceremony of young offers who received the rank of lieutenant at the Training and Education Center.
He said in address to the military, that every serviceman must realize the slogan "service to homeland, people and state is our life`s meaning." The Minister said that Azerbaijani lands were occupied. He underlined that the main responsibility lies with armed forces.
"Our country makes every effort to solve the Nagorno-Karabakh. But if peace talks produce no effect, Azerbaijan will have to solve the conflict by force and Azerbaijan will have to apply force," he said.