News
Peter Szijjarto: There is great potential for development of relations between Azerbaijan and Hungary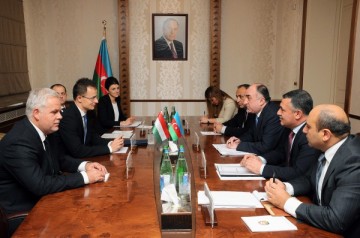 "There is great potential for the development of relations between the two countries," said Hungarian Minister of Foreign Affairs and Trade Peter Szijjarto at a press conference following his meeting with Azerbaijani FM Elmar Mammadyarov.
"The documents, which will be signed soon, will contribute to the expansion of our cooperation in a variety of fields," he added.
According to Mr. Szijjarto, the trade between the two countries has increased by 18 percent. Touching upon educational ties between the two countries, Mr. Szijjarto said: "We plan to receive nearly 200 Azerbaijani students at the Hungarian universities."
He also hailed cooperation between the two countries within the European Union`s Eastern Partnership program, and noted that Azerbaijan was an important energy partner.
According to Azerbaijani Minister of Foreign Affairs Elmar Mammadyarov during the meeting with his Hungarian counterpart they discussed issues of mutual interest, especially prospects for the development of bilateral ties.
Mr. Mammadyarov said he informed the Hungarian Minister on the current state of negotiations to settle the Armenia-Azerbaijan Nagorno-Karabakh conflict.