News
Baku`s hosting First Global Forum on Youth Policies testifies to Azerbaijan`s successful policy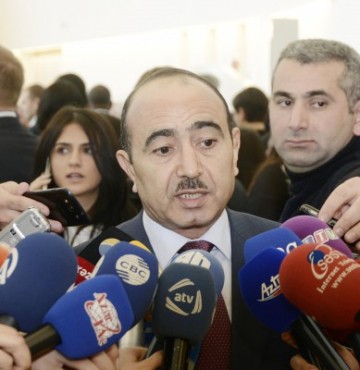 Head of the Socio-Political Affairs Department at the Azerbaijani President`s Administration Ali Hasanov has stressed the importance of holding the First Global Forum on Youth Policies in Baku.
"Baku`s hosting the First Global Forum on Youth Policies testifies to Azerbaijan`s successful policy," he told journalists.
"The forum is attended by young leaders, representatives of youth organizations and government bodies, figures from the world of academe, and NGO leaders."
Mr. Hasanov said: "The forum will discuss the problems facing youth throughout the world and in Azerbaijan. It will adopt a final document. The fact that this high-profile forum is held in Baku is recognition of continuous and effective policy pursued in Azerbaijan. Launched by national leader Heydar Aliyev, youth policy in Azerbaijan is being successfully carried out."
"Azerbaijan is one of the top 50 countries for the number of its population and territory among 200 countries." The Presidential Administration official said: "However, Azerbaijan is among top 30 countries for economic, political and social indicators. And this certainly deserves attention. One of the main factors that made the organization of this forum in Baku possible is Azerbaijan`s successful policy."
He expressed confidence that the forum "will contribute to bringing Azerbaijani and world youth closer to each other, and become a crucial element in the development of youth policy".
Mr. Hasanov also said "the forum will see participants adopt common recommendations covering all the areas concerning youth, including the ways of using their potential. These recommendations will be applied by public bodies participating in the forum in their countries".
"Given the fact that international organizations such as the United Nations, PACE and UNESCO participate in this forum, we can resolutely say that it will contribute to shaping the global youth policy," Mr. Hasanov added.