News
President Ilham Aliyev received the German Federal Minister for Foreign Affairs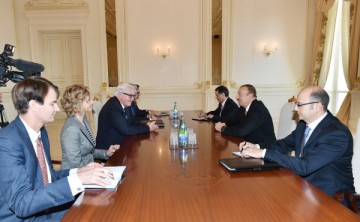 President of the Republic of Azerbaijan Ilham Aliyev has received Federal Minister for Foreign Affairs of the Federal Republic of Germany Frank-Walter Steinmeier.
The head of state said that German Federal Minister for Foreign Affairs Frank-Walter Steinmeier`s visit was a good opportunity for discussing the issues related to the development of the bilateral relations in political, economic, security and other areas, and also for defining future work. President Ilham Aliyev said the cooperation between the two countries covered a wide range of areas.
Minister Frank-Walter Steinmeier recalled with pleasure his last visit to Azerbaijan, saying he witnessed great development in Baku since that trip. He said there were good opportunities for expanding Azerbaijani-German cooperation in various fields, including education, healthcare and information and communications technologies.
The parties discussed issues of mutual interest.