News
President Ilham Aliyev attended the opening of kindergarten No. 2 in Ganja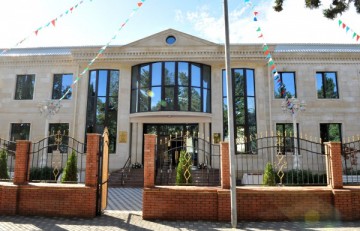 President of the Republic of Azerbaijan Ilham Aliyev and his wife Mehriban Aliyeva have attended the opening of kindergarten No. 2, the construction of which was initiated by the Heydar Aliyev Foundation in the city of Ganja.
Initiated by President of the Heydar Aliyev Foundation Mehriban Aliyeva, major repair and reconstruction work has been carried out in many educational facilities for children, new kindergartens built in the regions in recent years. Such projects are mainly aimed at removing shortcomings in pre-school education system. The Heydar Aliyev Foundation has embarked on another such program entitled "Development of pre-school education facilities". It has already been made public.
President Ilham Aliyev cut the ribbon symbolizing the opening of the kindergarten No. 2.
The head of state and his wife toured the facility. It was noted that all conditions were created at the two-storey kindergarten for training and education of children. In compliance with modern educational norms, seven groups were created here, and there are wide opportunities for children`s rest. Teaching and training in these groups is conducted in Azerbaijani and Russian languages. Special attention was paid to ensuring intellectual, physical and mental development of children, discovering their talents and abilities, protecting their health and building their communication with people. Special attention is also paid to nutrition. The territory of the kindergarten was landscaped, and green areas were laid out.