News
President Ilham Aliyev reviewed the progress of construction at Ganja State Philharmonic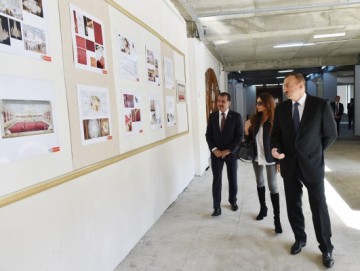 President of the Republic of Azerbaijan Ilham Aliyev and his wife Mehriban Aliyeva have reviewed the progress of the construction work at the building of Ganja State Philharmonic.
President Ilham Aliyev laid the foundation of Ganja State Philharmonic during his visit to Ganja on January 21 2012.
The head of state was informed that a 1,200 concert hall, an open-air cinema theatre, a drawing gallery, an urban center and an observation tower will be built in the facility.
There will be catering facilities, an underground parking lot and auxiliary offices. Statutes of Azerbaijani music icons will be built on the balcony of the building.
Together with the tower, the six-storey building will be 26 metres in height.
The head of state gave his instructions and recommendations.