News
President Ilham Aliyev attended the opening of the Heydar Aliyev Center in Dashkasan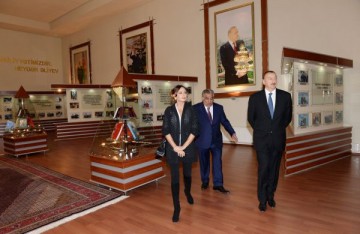 President of the Republic of Azerbaijan Ilham Aliyev and his wife Mehriban Aliyeva have attended the opening of the Heydar Aliyev Center in Dashkasan.
Important measures are being taken in the country in order to perpetuate the memory of nationwide leader Heydar Aliyev, who made an invaluable contribution to the establishment of the Azerbaijani state on a solid foundation and comprehensive development of the country. The centers named after the great personality are of particular importance among these measures in terms of studying his political heritage. One of such centers has been built in Dashkasan District.
This center imparts special beauty to the appearance of the city. The photos and exhibits displayed at the center demonstrate that great leader Heydar Aliyev`s contribution to Azerbaijan's transformation from a country which faced a deep economic recession into a state that embarked on a path of comprehensive development and reinforced its international reputation is truly invaluable.
A bust of nationwide leader Heydar Aliyev was installed on the first floor of the center. The documents related to the great leader's life and activities are of particular interest. The photo stands display childhood, youth and student years of the nationwide leader as well as his years at the State Security Committee and his visits to regions during his leadership of the country. The photos also prove that the national leader paid attention to welfare of our people and that his visits to the regions aimed to make the country`s development felt in everyday life of each citizen.
It was informed that courses would be organized in the center in order to develop knowledge and skills of youth. The Heydar Aliyev Center has an internet classroom, an e-library, a computer center, a drawing studio and will also offer carpet-weaving courses.