News
President Ilham Aliyev and President of Tajikistan Emomali Rahmon held a one-on-one meeting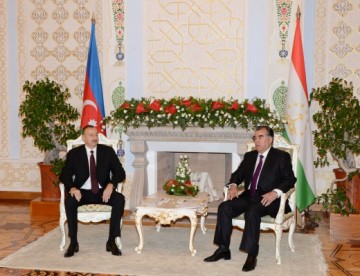 After the official welcoming ceremony, President of the Republic of Azerbaijan Ilham Aliyev and President of the Republic of Tajikistan Emomali Rahmon have held a one-on-one meeting.
Tajik President Emomali Rahmon said:
- Dear Ilham Heydar Oglu,
First of all I would like to say that we are satisfied with your visit to Tajikistan. You are welcome! Tajikistan and Azerbaijan are bound together by ancient ties of history and culture. I am confident that your visit will give a new impetus to relations between our people. During the visit we will certainly have wide discussions on important areas of our bilateral relations and define the program of our multilateral cooperation.
Relations between our countries are successfully developing. The bilateral trade is increasing. During out meeting we will once again discuss the future development of our relations.
I once again express my pleasure at seeing you here. You are welcome!
X X X
President of Azerbaijan Ilham Aliyev said:
- Dear Emomali Sharifovich,
Thank you.
First of all I thank you for inviting me to visit you beautiful country. I am happy to be here again, and I see beautiful changes. In a short period of time I will see other changes too. All this reflects rapid development of your country. As your friends this makes us very happy, and we certainly have big hopes that the potential of our bilateral cooperation will be strengthened.
We have strong ties. We are friends, partners. This is a visit of a friend, partner. We also hope that this visit will encourage rapid development of our economic relations. Because we agree that our trade is not at the desired level. This is why our delegation includes representatives of business circles, and many ministers. So I believe that we will yield positive results.