News
President Ilham Aliyev reviewed the progress of construction at a bridge, which will link Pirallahi Island with the Absheron peninsula, and a conceptual plan of Pirallahi district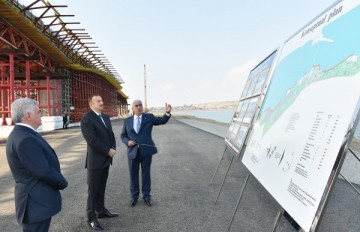 President of the Republic of Azerbaijan Ilham Aliyev has reviewed the progress of construction at a bridge, which will link Pirallahi Island with the Absheron peninsula.
The construction of the bridge began at the end of 2012.
The shore reinforcement work was carried out in order to prevent the washing away of a highway, which links Pirallahi district with the shore, speed up the construction of a highway bridge, and improve the environment in the area of the road. Sixty percent of the work on the project has already been completed.
The bridge is located on the 23rd km of the Gala-Pirallahi highway. The length of the bridge between entry and exit is 710 metres, the width is 14 metres, while the lane is 12 metres in width. After the opening of the bridge, ships will freely sail under the facility.
President Ilham Aliyev gave instructions and recommendations on the completion of the construction work at a high level.
Then the head of state reviewed the conceptual plan of a new city in Pirallahi district. Under the development project, the new city will be built in Gurgan Seashore and surrounding areas. A large state-of-the-art residential area will be established here to accommodate 120,000 people at the initial stage. The city will also have administrative buildings, many-storied houses, trade centers, recreation areas and parks linking the city with the sea.
In accordance with the project, the initial stage will see the construction of 60 residential buildings with most of them being in the form of four-storey terraces. A university complex, a fishing platform will be built, and an industrial area established in the new city.