News
Newly established Pirallahi district is rapidly developing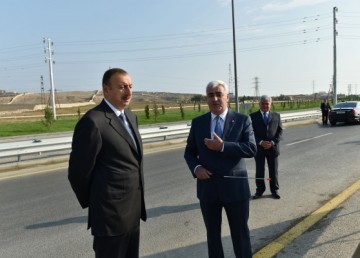 President of the Republic of Azerbaijan Ilham Aliyev has arrived in Pirallahi district after the opening of the first section of the Gala-Pirallahi road.
Head of the district`s Executive Authority Vasif Imanov informed President Ilham Aliyev about the work done in Pirallahi and the settlement`s master plan.
The newly established Pirallahi district is experiencing rapid development. After President Ilham Aliyev signed an executive order to apply the law on the establishment of Pirallahi district in Baku, immense reconstruction and development work has been carried out in the district. Development work has become widespread in all residential areas of Pirallahi settlement. As a result of the reconstruction work, Pirallahi settlement is rapidly acquiring a modern look. Much work is being done in the settlement to rebuild the lighting system in the streets and yards, ensure uninterrupted operation of the public transport, construction and overhaul of social facilities – schools, kindergartens, hospitals, and culture houses. In line with the outlook for the development of Pirallahi settlement, it is scheduled to determine the place for lines of communications, build swimming, resort complexes, construct a residential complex for refugees and internally displaced persons, relocate the helicopter landing pad to a new area, lay out green areas along highways, and etc.