News
Top Vietnamese official: Azerbaijani President`s Hanoi visit considerably contributed to development of bilateral relations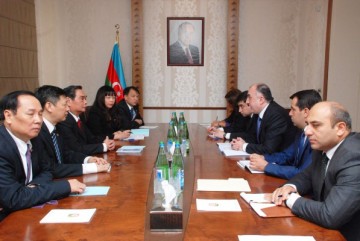 Member of the Political Bureau of the Communist Party of Vietnam, permanent member of the Secretariat of the Central Committee Communist Party Le Hong Anh has stressed the importance of the Azerbaijani President`s visit to Hanoi.
"The Azerbaijani President`s visit to Vietnam made a considerable contribution to the development of bilateral relations between our countries," Mr. Hong Anh told Azerbaijani Foreign Minister Elmar Mammadyarov as they met in Baku.
The Vietnamese official said there were good opportunities for the expansion of the ties between the two countries.
Mr. Hong Anh noted the importance of the exchange of delegations and the expansion of a legal framework of cooperation.
He praised Vietnamese-Azerbaijani relations, saying the two countries maintained successful cooperation in international organizations.
FM Mammadyarov hailed the two countries` relations as "rapidly developing".
He referred to national leader Heydar Aliyev`s visit to Vietnam during the Soviet Union, and also lauded the role of President Ilham Aliyev`s state visit to Vietnam in deepening the bilateral ties.
Mr. Mammadyarov also highlighted the current state of peace talks to solve the Armenia-Azerbaijan Nagorno-Karabakh conflict, saying the withdrawal of the Armenian armed forces from Azerbaijan`s occupied lands was a critical condition for the settlement of the dispute.