News
First lady Mehriban Aliyeva opens kindergarten in Nizami District after major overhaul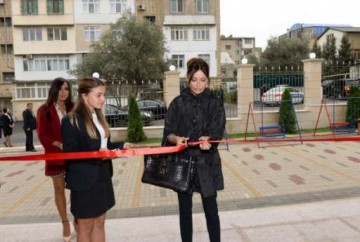 Azerbaijan`s first lady, president of the Heydar Aliyev Foundation Mehriban Aliyeva and the foundation`s Vice President Leyla Aliyeva have attended the inauguration of kindergarten No 175 in Nizami District, Baku, after major overhaul.
The first lady cut the ribbon symbolizing the official opening of the facility.
Head of Baku Executive Authority Hajibala Abutalibov informed the first lady about the redevelopment work. A new block was built for the kindergarten this year, while the first block was completely overhauled. The kindergarten can handle up to 230 children. There are now 10 Azerbaijani-language and 2 Russian language groups.
The first lady and Leyla Aliyeva viewed the Heydar Aliyev and national corners, which feature handicrafts by children and the teaching staff.
Mehriban Aliyeva praised the conditions created at the kindergarten.