News
President Ilham Aliyev attended the opening of the "Friendship" kindergarten the construction of which in Astrakhan was initiated by the Heydar Aliyev Foundation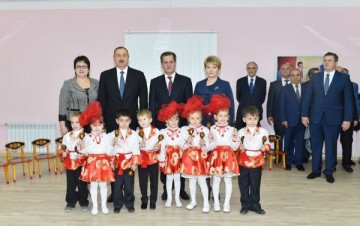 President of the Republic of Azerbaijan Ilham Aliyev, who is on a working visit in Astrakhan, the Russian Federation, has attended the opening of the "Friendship" kindergarten under secondary school No. 11 after Heydar Aliyev. The construction of the kindergarten was initiated by the Heydar Aliyev Foundation.
The head of state addressed the event.
A photo stand reflecting the life and political activities of national leader Heydar Aliyev, President Ilham Aliyev's visits to Astrakhan and the work carried out by the Heydar Aliyev Foundation in the city was installed in the lobby of the kindergarten.
The foundation stone for the facility was laid in 2013 with the participation of Vice-President of the Heydar Aliyev Foundation Leyla Aliyeva.
President Ilham Aliyev was informed that the 140-seat kindergarten is designed to serve both Azerbaijani children and kids from local families. In general, the facility will have six groups for children from 2 to 6 years of age. The kindergarten is fitted with all the necessary equipment and teaching aids. Sports and music halls as well as other rooms here meet modern standards.
After reviewing the kindergarten, President Ilham Aliyev posed for photographs with Azerbaijanis living in Astrakhan.