Agenda
Mehriban Aliyeva: Azerbaijan set itself a goal of holding European Olympics at the level of summer Olympics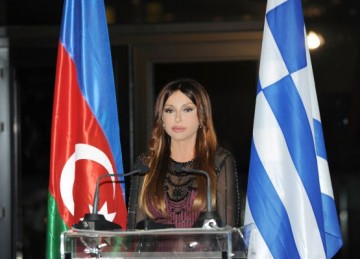 "The Games will be the first in Europe. Although the Olympic movement began in Greece , in Athens Europe has never hosted games . We are proud that our country was given the opportunity to make history . The decision of the European Olympic Committee and the support received with great joy by the people . " These ideas were voiced by First lady of Azerbaijan during presentation of the first European Games in 2015 in Athens, Greece.
First Lady of Azerbaijan Mehriban Aliyeva, Azerbaijan's best known as a sporting nation, "the restoration of independence was one of the priorities of the state policy in the field of sport. We are proud of the progress that we have achieved in a short time. At last summer Olympic Games, our athletes won 10 Olympic medals and ranking of the top 30 countries by number of medals. In the past 10 years of modern Olympic Center was built more than 40 professional sports, and many of the young people and the opportunities opened up new horizons. '
First Lady Mehriban Aliyeva who underlined that European rhythmic gymnastics successfully held in Baku in June 2014 was a good example. Azerbaijan set itself a goal of holding European Olympics at the level of summer olympics. We are proud with fruitful and strong cooperation with the European Olympic Committee and International Olympic Federation.