News
American students learn truth about Karabakh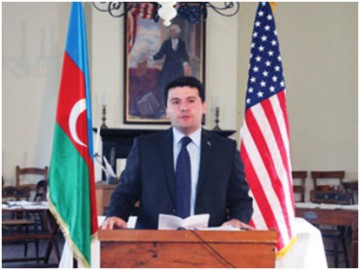 The Syracuse University, based in Upstate New York, has hosted an event dedicated to Azerbaijan. The event was held at the University's Maxwell School of Citizenship and Public Affairs, which is recognized as one of the world's best graduate schools of public affairs. Students and professors of the university attended the event.
At the invitation of the University, Consul General of Azerbaijan in Los Angeles Nasimi Aghayev participated at the event. Following the introductory remarks by the event's co-hosts, Brian Taylor, Professor of Political Science of the University and Director of the Center for European Studies, and Alma Begic from the University's Turkish Student Association, Consul General Aghayev was invited to address the audience.
Highlighting the illegal military occupation of Azerbaijan's territories by Armenia, as well as the ethnic cleansing and war crimes carried out by Armenian army against Azerbaijani civilian populaton on the occupied territories, the Consul General informed the attendees about the Khojaly massacre of 1992, which resulted in the brutal killing of hundreds of civilian Azerbaijanis, including many children, women, and elderly. He noted that as much as Armenia tries to deny the responsibility for this massacre, the facts speak for themselves and cannot be changed. In this regard, the Consul General mentioned the admission of culpability for this mass killing expressed by Armenia's current president Serzh Sargsyan in an interview given in 2000 to the British expert Tom de Waal. In this regard, Aghayev said that after all these confessions and facts, including an assessment by Human Rights Watch, it is ridiculous to deny the responsibility for the Khojaly massacre.
During the presentation, the Consul General also spoke about Azerbaijan's history, culture, its development as an independent nation, its oil strategy, relations with U.S., Europe and neighboring countries, He also highlighted the long-standing traditions of ethnic and religious tolerance in Azerbaijan and said in this regard that the Government of Azerbaijan is paying a special attention to strengthening these traditions.
The presentation was followed by a lively Q&A session, during which Consul General Aghayev responded to various questions from students and professors.