News
Baku to host 470 class world sailing championships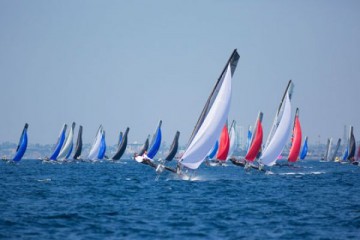 The Azerbaijani capital of Baku will host a 470 Olympic class world sailing championships in 2016 as decided by the General Assembly of the International 470 Class Association in Athens, Greece.
Azerbaijan earned 254 votes to win the bid to host the championship.
The General Assembly also featured a presentation by representatives of the Azerbaijan Sailing Federation.
The 470 is an Olympic Class Dinghy recognized by ISAF. Sailed by both men and women, it was designed in 1963 by the Frenchman André Cornu as a modern fibreglass planing dinghy.
The name is the overall length of the boat in centimeters (the boat is 4.70 metres long). The hull is fiberglass with integral buoyancy tanks.
The International 470 Class is the class of boat used for both the men's two person and women's two person dinghy events at the Olympic Games. Used as Olympic equipment since 1976, where the class was sailed as an open event before the introduction of separate events for men and women in 1988, the 470 is sailed in more than 61 nations around the world.
A strict one design class, the 470 has proved its pedigree as an Olympic class, being a high performance sailing dinghy suitable for body weights from all continents and to performing across a wide range of weather conditions. Across the 9 Olympic Games in which the 470 Class has been raced, more than 18 different nations have secured Olympic medals in the men's and women's events, demonstrating the depth of participation and talent.