News
President Ilham Aliyev: Azerbaijan plays an important part in regional security and stability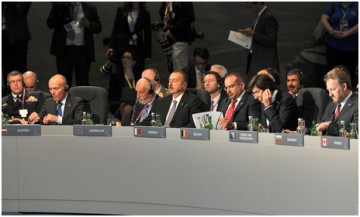 President of Azerbaijan Ilham Aliyev addressed the NATO summit's meeting on Afghanistan in Wales.
The President noted that over the 20 years of cooperation between Azerbaijan and NATO, our country has turned into a reliable partner contributing to a number of the Alliance's activities.
"Azerbaijan plays an important part in regional security and stability. At the same time, the biggest threat to the security of the region is posed by the policy of aggression pursued by Armenia, which keeps 20 per cent of Azerbaijani territory, including Nagorno-Karabakh and seven adjacent districts, under occupation. Armenia has carried out a policy of ethnic cleansing against the Azerbaijanis, as a result of which more than a million people have become refugees and internally displaced persons. Four UN Security Council resolutions demand an immediate and unconditional withdrawal of Armenian troops from the occupied territories. Unfortunately, Armenia continues to flout them and the conflict remains unresolved. The conflict must be resolved on the basis of international law and the territorial integrity of Azerbaijan," President Aliyev said.
He added: "We appreciate NATO's position on this issue, as well as its unreserved support for the territorial integrity and sovereignty of Azerbaijan voiced at previous summits. We firmly believe that NATO's commitment to such an important part of international law will be continued in the future. Thus, it will make an explicit contribution to the restoration of justice and prevent the spread of the misperception regarding the possibility of a forcible change of internationally recognized borders.
Azerbaijan is making a comprehensive contribution to ensuring the long-term development of Afghanistan. Azerbaijan is one of the five NATO partners to be contributing to all three focus areas of this summit. Azerbaijan's military personnel have been part of the ISAF contingent since its early days."
Noting that extensive training programs are conducted for Afghanistan's law-enforcement and government officials at different academies in Azerbaijan, the President said:
"A total of 3 million euros has been transferred into the Fund of Trustees of Afghanistan's National Army, while 1 million euros was spent on strengthening operations. The transit of 40 per cent of non-destructive goods intended for ISAF forces is provided by Azerbaijan. In addition, the construction of the Baku-Tbilisi-Kars railway, which will create important transit opportunities within the framework of the "Resolute Support" program we will join in the future, will be commissioned in the coming months. Coupled with the biggest in the Caspian region Azerbaijan International Seaport, this railway will open up extensive trade and economic opportunities both for the region and Afghanistan. It will also benefit Afghanistan, which is located at the center of the route linking the Far East with Europe.
As a country which has completed a transition from a period of stagnation and crisis in the early years of independence to one of stability and rapid economic development, Azerbaijan is ready to share its experience with Afghanistan and contribute to various reconstruction and investment projects in this country."