News
President Ilham Aliyev reviewed secondary school No. 54 in Baku after major repair and reconstruction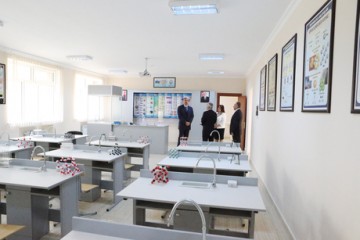 President of the Republic of Azerbaijan Ilham Aliyev has reviewed secondary school No. 54 in Nasimi District of Baku after major repair and reconstruction.
Work has continued this year towards speeding up the socioeconomic development of Baku and its suburban settlements in accordance with the instructions of the head of state. Educational, healthcare and cultural facilities are being successfully overhauled and new schools and kindergartens built.
Baku Mayor Hajibala Abutalibov informed the head of state about the work done at secondary school No. 54.
It was said that the school was built in 1976. The three-storey building is comprised of two blocks. There are 56 classrooms in the 1,076-seat school. All classrooms and departments have been repaired in compliance with modern standards. The school is fitted with state-of-the-art equipment and teaching aids. A military training room was created here with the aim of improving pupils' military readiness and boosting their patriotic spirit. The heating and lighting systems also meet modern standards. The one-and-a-half hectare area around the school has been landscaped and green areas laid out.
President Ilham Aliyev reviewed the classrooms and departments.