News
President Ilham Aliyev reviewed reconstruction work at the office building of the Khatai District Executive Authority in Baku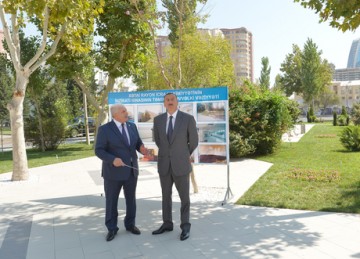 President of the Republic of Azerbaijan Ilham Aliyev has reviewed the reconstruction work at the office building of the Khatai District Executive Authority in Baku.
The application of new methods to the public administration system has widened in the country under orders and instructions of President Ilham Aliyev in the last few years. Important measures are being taken to improve working conditions of public servants. The construction of new office buildings for executive authorities of different districts in the capital, redevelopment of the existing facilities are among top priorities. The construction and repair work at the office building of the Khatai District Executive Authority ensures both the improvement of working conditions of staff and the quality of services offered to people. Redevelopment of this office building is also a strong signal of the government`s attention to the improvement of the public administration system. Built in a modern architectural style, the building gives the district a new appearance.
Head of the Khatai District Executive Authority Razim Mammadov informed the head of state of the work done.
It was said that constructed in 1979, the building had never been renovated. The total area of the building was expanded from 2,500 to 2,875 square metres. The building is now fitted with the necessary equipment and systems. There is a bust of national leader Heydar Aliyev at the entrance. There is also a photo stand reflecting national leader Heydar Aliyev`s and President Ilham Aliyev`s participation in different events in Khatai District.
President Ilham Aliyev reviewed a reception room. It was said that under the head of state`s instructions to create E-government, necessary work was carried out to ensure that citizens can electronically make enquiries and submit their complaints to the executive authority`s E-governance and database system. The system also gives local residents access to the website of the executive authority through the Internet. A 220-seat conference hall is well suited for holding different events. Lighting, sound and other state-of-the-art systems were installed here. All rooms are fitted with necessary equipment and aids.
The interior of the building features photos of ancient Baku. There is also a small conference hall and a 50-seat auditorium. Operative control center gives access to information about all buildings and facilities in the district.
The head of state reviewed the office building and then a park outside it. Special attention was paid to creating wide green areas in the park, many decorative trees were planted here. The park has all necessary conditions for people`s rest.