News
Azerbaijani delegation partakes at 6th UNAOC Global Forum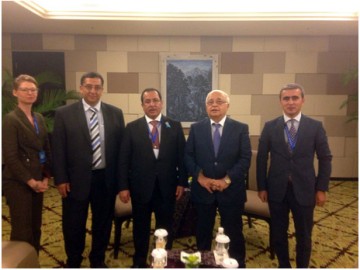 Azerbaijani delegation headed by Deputy Prime Minister Elchin Efendiyev is visiting the Republic of Indonesia to participate at the Sixth UN Alliance of Civilizations Global Forum (UNAOC Global Forum).
As a part of visit, Elchin Efendiyev addressed the Forum speaking of Azerbaijan's contribution to the modern multicultural relations, the development of multiculturalism and international propagation of tolerant culture. Azerbaijani Deputy Prime Minister highlighted the Baku Process initiated by President Ilham Aliyev, the World Forums on Inter-cultural Dialogue, the importance of newly founded Multiculturalism Center in Baku. Efendiyev offered to hold the 7th UN Alliance of Civilizations Global Forum in Baku in 2016.
As a part of visit, Elchin Efendiyev met with Jose Manuel Garcia-Margallo, Minister of Foreign Affairs of Spain to discuss current state of and prospects for the economic, political and humanitarian relations between Azerbaijan and Spain.
Azerbaijan's Deputy Prime Minister has also met with the minister of commerce of New Zealand. The sides stressed necessity of developing bilateral relations.
On August 30, Elchin Efendiyev met with Nassir Abdulaziz Al-Nasser, United Nations High Representative for the Alliance of Civilizations, exchanged views on the relations between Azerbaijan and UNAOC. Mr. Nassir Abdulaziz Al-Nasser expressed pleasure to cooperate with Azerbaijan, stated that UNAOC would closely participate in the organization of the 3rd World Forum on Inter-Cultural Dialogue due in Baku in 2015.
Within the meeting, UNAOC and Azerbaijan Foreign Ministry signed an agreement. The document was signed by Nassir Abdulaziz Al-Nasser and Azerbaijan's ambassador to Indonesia Tamerlan Garayev.