News
Azerbaijan`s First Lady Mehriban Aliyeva inspects construction and redevelopment progress at sports facilities to be used during First European Games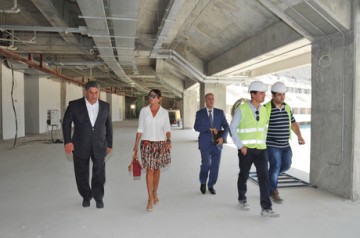 Azerbaijan`s First Lady, President of the Heydar Aliyev Foundation, chairperson of the First European Games Organizing Committee Mehriban Aliyeva has today inspected the construction and redevelopment progress at sports facilities to be used during the Baku 2015 European Games.
Mehriban Aliyeva first reviewed the progress of construction at the Baku Olympic Stadium. Minister of Youth and Sports Azad Rahimov informed the First Lady about the work carried out at the facility. The President of the Heydar Aliyev Foundation was told that modern equipment and building materials were being used in the construction. The major part of the project has been completed. The project envisages construction of the main stadium, smaller stadium intended for training sessions and auxiliary building. The 70,000-seat six-storey stadium will provide special seats for the disabled. There will be 3,100 parking lots in the area. The landscaping work will be carried out around the stadium. The construction of the stadium started in November 2012, and will end in February 2015.
Then Azerbaijan`s First Lady Mehriban Aliyeva inspected the reconstruction work at Heydar Aliyev Sports and Concert Complex. The First Lady was informed that the Complex covered a total area of 46,000 square meters. The repair of the facility will end in January 2015.
Mehriban Aliyeva also visited the Baku Sports Palace in the Seaside Boulevard to review the progress of the reconstruction. The Palace was built in 1974. The number of seats in the complex was increased from 1500 to 1850.
The First Lady inspected the construction of the Aquatic Palace.
Youth and Sports Minister Azad Rahimov informed Mehriban Aliyeva about the work done at the facility. An area of 6 hectares was allocated for the construction of the Aquatic Palace. The palace covering an area of 66,000 square meters is fully compliant with the requirements of the International Swimming Federation. It will have three swimming pools. The pool 50 meters long and 25 meters wide is designed for competitions. The second pool is intended for training. The length of the pool for diving is 25 meters and the width is 20 meters. Sports competitions in the palace can be watched by 6,200 spectators. All the conditions for the training of athletes and organization of competitions of national and international levels will be available here. The palace will operate fitness rooms, a SPA center, a restaurant, a 100-seat conference hall, offices and other utility rooms. The area around the Aquatic Palace will have ancillary buildings, structures, and an above-ground car park for 500 cars.